Tokyo photo wedding
Shiba Rikyu garden Plan
Point of Plan
・Shooting in "DAIMYO" garden in the early EDO period.
・Waterside of migratory fountain garden is romantic.
・English speaking coodinator
・Convinient for fright at Hamamatsucho, close to Haneda monorail
・With french romantic dinner
・With wedding dress rental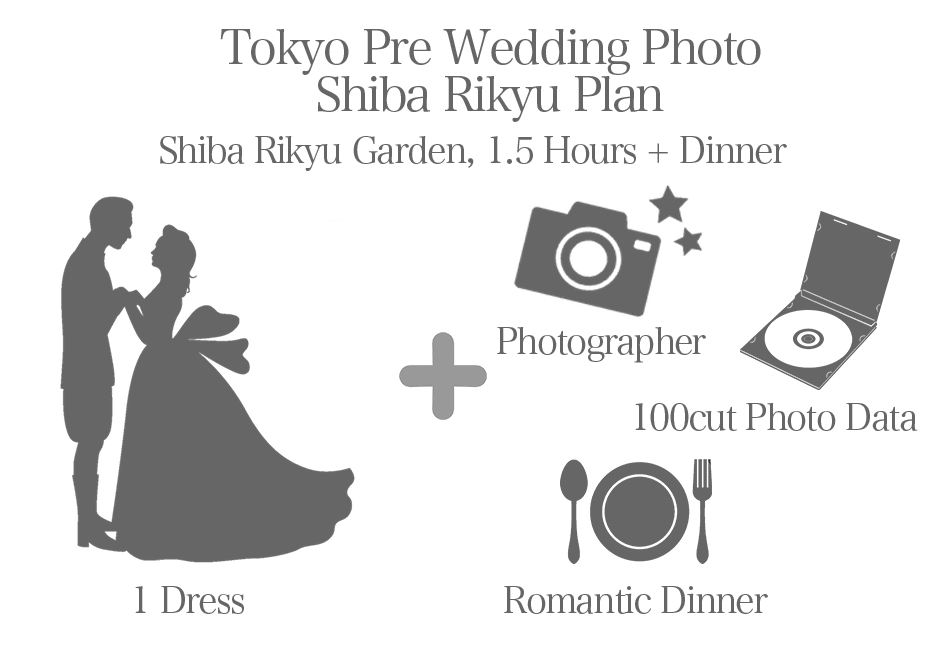 Price Inclusion
Photographer
100 cuts photo data
Wedding dress
Artificial flower bouquet
Dress room available
Romantic dinner (2 pax)
Price not inclusion
Hair meke-up artist
Tuxedo
TAX
* It is possible to add it by Options
* Accident insurance etc. are not included
Romantic dinner for French restaurant 'EPICES' include in price for two persons.
After photo wedding shooting, you can enjoy delicious and beautiful Japanese French full course.
※Price not include drinks
Click here for Romantic dinner
Romantic Dinner (Whole year)
Model Schedule
11:00 Please come to Hamamatsucho salon
● 11:00 Easy meeting
● 11:30 Begin Hair & Make-up
● 13:00 Change dress
● 13:30 Transfer to Shiba Rikyu
● 14:00 Begin photo wedding
● 15:30 Shooting end
● 16:00 Change dress in Hamamatsucho salon
● 16:30 Photo confirmation and short break
● 17:00 Romantic restaurant at EPICES restaurant
※ Time is standard
Delivery of Shooting Data
Shooting data will be completed in about a week. We will send you a download link by e-mail.
Data can be on CD as option and overseas shipping is possible. Since the postage price varies from country to country, please contact us.
Shooting Options
Shooting time extended by 30 minutes:¥15,000
※Additional delivery 25 cuts

if you can not find the desired plan, please do not hesitate to contact us with any questions.
Click here for flow from Reservation to Shooting

Click here for Shooting Day flow